THE WAY TO BRAKE YOU SNOWBOARD?
Many people shake the snow off their snowboards, beating the tail bar against the asphalt.
By doing it, you just kill the snowboard with your own hands. Being stricken against the asphalt of the metal tail bar. Actually splits the tail of the snowboard.
In order to remove the snow from your snowboard after you've finished riding you need to do the following:
- Before you mount the bindings apply wax on the top sheet and work it in.
- Apply special composition to the top sheet to reduce the amount of snow clinging to plastic.
The rest snow can be easily shaken off by the gloves.
Let your boards live long.
Your feet work as a nail drawer tearing out inserts out of your board. No matter how firm your board is and what way we try to protect it, inserts will be torn out and the board can be split.
Do it this way and our board will be broken!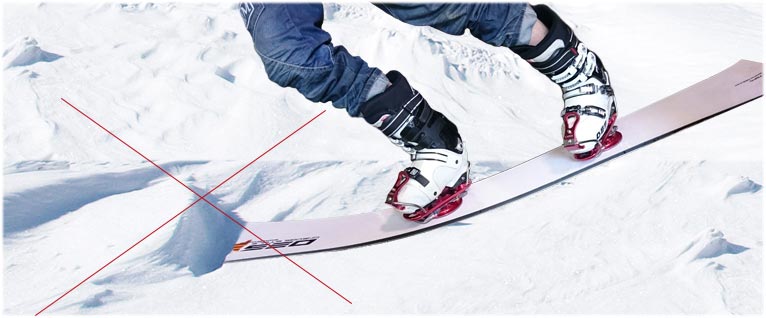 Let's take SLALOM snowboard which is designed to be equipped with the plate. Let's set up ordinary bindings on it without any plate. Then put on bindings and begin to jump, do a somersault, land on the tail, into the snow, etc.
Slalom board is designed to be used with the plate and to be used for slalom. It can bear landings and some kind of definite blows, but it will just crack or break under excessive efforts that crook the tail and the nose.
The slalom board is designed to be used for slalom only.
Don't forget that while riding on soft snow the nose of the board will easily sink into the snow when your body continues inertial movement forward. In this case, you can easily get an injury or break the board.